I did an unintentional braidout. Hubby was complaining that I never  wear my hair out anymore. Never is such a harsh word. Why, I just wore my hair  out in October.
Anywho, I took my Celie braids out and this is what I got:
I didn't use any styling products. Just the normal m&s from the night  before. I just unbraided my 5 Celie braids and started fluffing it. Tah dah!  Makes me wonder how good it would look if I intended for it to be a braidout and  actually used styling products. Ah well. I can't get caught up in wearing it out  again. I'd like to keep it in protective styles at least until it warms up.
Oh, and I did stretch a piece for a quasi-length check. Claiming mbl.  My brastrap is at the black like above my fingers.  I'm in the white.  wl is two more stripes down at the next white line. Hoping to be wl by my birthday in June, at the latest. Hoping for sooner with my growth mix. (if I can just get consistent, Lawd)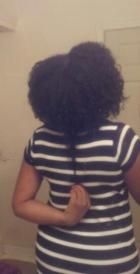 Just thinking. A flat ironing would be amazing right now. But, naaaaah.  Waiting for my birthday in June.